Crochet Business
Planning Guidelines
Now that you know a business plan is important for your crochet business you're probably wondering what to include in it. Here are some guidelines to get you started:
Tip: These crochet business planning guidelines are to help you get started on your plan... if you feel that you need more help scroll down to the bottom of this page and there I will provide you a link to a great book that I used and will help you 

---
1. Executive Summary
---
The words executive summary sound overwhelming, but it's really just your crochet businesses mission or vision statement.  The other things to include would be a business description and what kind of problem/problems and how your business proposes to solve them. Remember you don't need to over think this portion, just stay focused by stating your business goals and how you will accomplish them.
---
2. Business Legal Structure
---
Now is the time to start thinking about the legalities of your business. You will probably need to obtain a business license from your own state and you also need to decide if your business is going to be operated as a Sole Proprietorship or an LLC Company.
---
3. Products and Services
---
Make sure to include what products and services your crochet business offers. If you need to start working on building/crocheting an inventory include this into your plan.

---
4. Target Market
---
Find out who your main audience is and who your crocheted products and services cater to.  This is where you can identify potential market competitors.  Every segment has a competitor, be truthful to yourself here so that you can address every problem that they are not solving that you can.
---
5. Financial Plan
---
How much will it cost you to start up your business? For example: How much yarn will you be buying? Will you need to pay for a website host? Will you need to invest in a better camera or computer? Will you need to take classes? Include any of these things into your plan.

---
Important Note:
Unless you are taking your business plan to a loan officer, how you write or create your plan is up to you. Your business plan doesn't have to be a long drawn out 50 page document unless you feel this is something that would benefit you. Design your business plan in a style that works best for you.
The message of your business plan is more important than the way it's written.
---
The book that helped me write my business plan
---
If you're at all like I was when I finally decided to write my business plan for my online crochet business I still felt confused and needed guidance on how to start. Because of this I ended up reading several articles and books on business planning and found a book that really helped me through this process. I hope to give you a head start on your business planning by sharing this book with you.  

If you're more the creative type and feel overwhelmed by just the thought of a long drawn out formal business plan "The Right-Brain Business Plan" by Jennifer Lee is the book for you.

Jennifer shows you how to identify your goals, vision, and business strategies by using a more visual and artistic approach.
Instead of using the standard business plan format, this book helps you through the planning process by having you do some creative thinking, and exercises.
The book still captures all of the necessary components of a business plan, but takes on a more laid back, creative/crafty approach to the planning.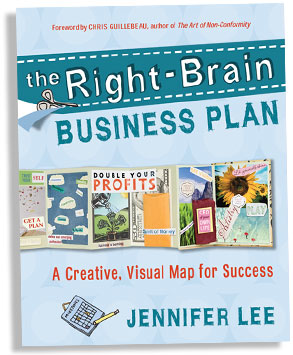 ---
Posts in this website contain affiliate links. If you purchase a product through an affiliate link, your cost will be the same but Crochet Guru will automatically receive a small commission.
- Your support is greatly appreciated and it helps keep Crochet Guru going!
Return to the Home Page from the "Crochet Business Planning Guidelines" Page