About Me
A Little About Me...

Hi, my name is Bobbie Thomson and I am the voice behind Crochet Guru. I'm guessing that it's pretty obvious that I am addicted to everything about crochet, and now that you are here I hope to turn you into a crochet addict as well!
How I Got Started in Crochet
---
I started crocheting a when I was twenty-one years old. I was in college at the time and a good friend of mine taught me the basics. She was an amazing teacher and because of her I immediately fell in love with the art of crochet. I have pretty much been a crochet addict ever since.
I began designing my own patterns in 2005, and started my crocheting career by selling my finished projects at craft fairs. I had so much fun selling my items, but I knew in my mind that I wanted to do more with this craft.
I created this website in 2012 because of that desire and need to do more with crochet, and I am so happy and grateful for all of the positive feedback that I have been receiving from friends and fans.
I love that I can build my own website and business right from home and that I am still able to take care of my wonderful family.
---
My Family and Some of My Creations
---
I have a very supportive husband, three beautiful daughters, and a spoiled rotten puppy... and not only do they make great models for my website they also provide me with loads of inspiration for my crochet patterns. 
This is a photo of my oldest daughter wearing a cabbage patch hat that I designed in 2013. She wore this hat for a Halloween party we attended and it was a big hit. She even won a prize for best homemade costume!

---
This is a picture of my twin baby girls modeling hat and bootie sets I made just for this photo shoot. This is probably one of my favorite photos of them because of how super sweet and adorable they look! 

---
This is a bearded beanie hat that I designed in 2012. I actually made this one for my husband and I plan on eventually updating this picture with a photo of him (if he ever lets me)! The hat does a great job keeping both your head and your face warm. Plus I think it really does a lot for my looks... haha! Believe it or not I really do wear this hat when it's cold outside and I am sure you can only imagine the crazy looks I get.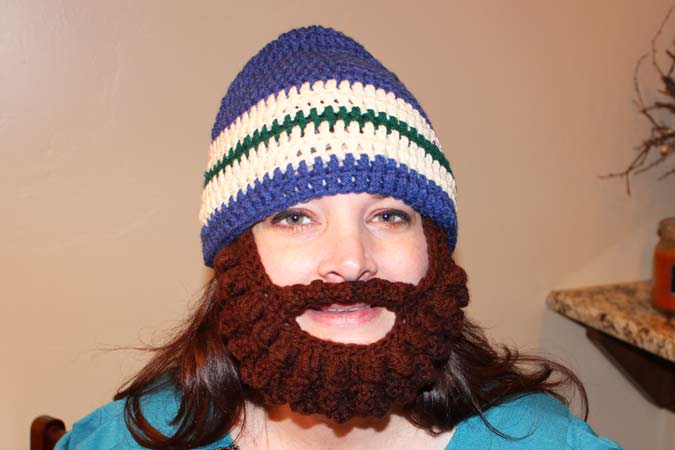 ---
This is a picture of my adorable and overdressed puppy. I can guarantee that you will see her picture a lot on this website. That's because I can never resist taking pictures of her all dressed up in the crochet sweaters I make for her... so cute!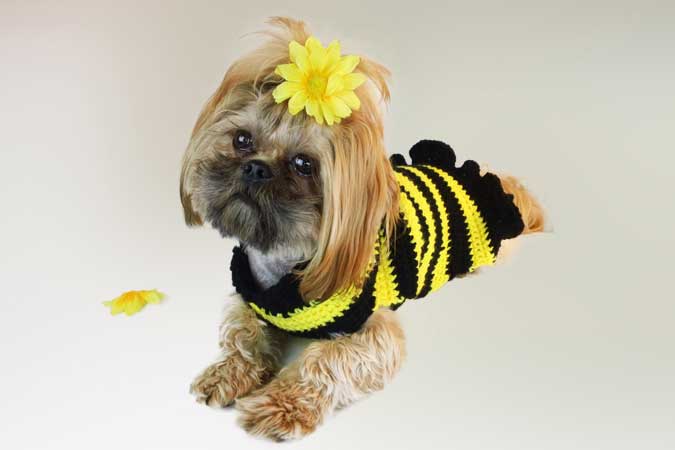 ---
I wanted to share a picture of this snuggly little giraffe with you because he is one of the first patterns that I created on my own. He is a great reminder of how I got my start in crochet design and because of that he will always hold a special place in my heart.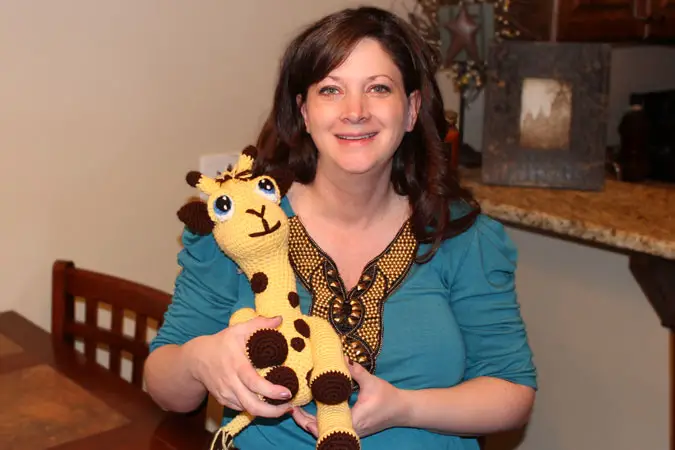 ---
Thank you for letting me share a little bit about me... and I really hope that you will find my crochet lessons, tips, guides, and patterns useful, fun and rewarding.

Now I better get back to creating more patterns and pages for this website...
Return to the Home Page from the "About Me" Page