Crochet Cabbage Patch Hat 
When I first discovered that the crochet cabbage patch hat was popular, I immediately fell in love with the idea and felt inspired to design my own pattern for it. When I started creating my cabbage patch hat pattern, I realized that almost every designer uses straight hair (which is adorable) but I really wanted to make the hat unique and stand out from all the others... and that's why I went with the curls! 
If you were a kid in the 1980's (like me) then you likely remember the beloved and ever so popular cabbage patch kid dolls. I bet you really loved them or really hated them, but either way they bring back a lot of memories. 
I really loved my cabbage patch doll when I was little, and who knew that I would grow up and have another one... The beautiful girl in the picture below is my daughter and cabbage patch hat model!
Cabbage Patch Hat Pattern

---
About This Pattern...
This pattern is written in standard American terms and is pretty easy to crochet, but you will need to know how to crochet the double loop stitch. 
This crochet pattern comes with several pictures containing useful and helpful descriptions and instructions.  This pattern also comes with links to my own video tutorials which provide some instructions of the more advanced crochet stitches. 
I always spend a lot of time perfecting my patterns that I design, and I know you will be happy with the finished product!
This Pattern Comes in 6 Sizes:

0-3 Months
3-6 Months
6-12 Months
Toddler/12 Months to 3 Years
Child/3 to 10 Years 

Teen/Adult
Materials Needed for Pattern:
1. Yarn – Soft Worsted Weight, I used Red Heart, Love. 

2. Hook – Size H-8-5.00MM
3. Measuring Tape
4. Ribbon – 28" cut into 2 pieces
5. Yarn Needle – Blunt sewing needle with big eye.
6. Lighter – To seal ribbon
7. Needle and thread – to sew ribbon

8. Scissors
---
Crochet Cabbage Patch Hat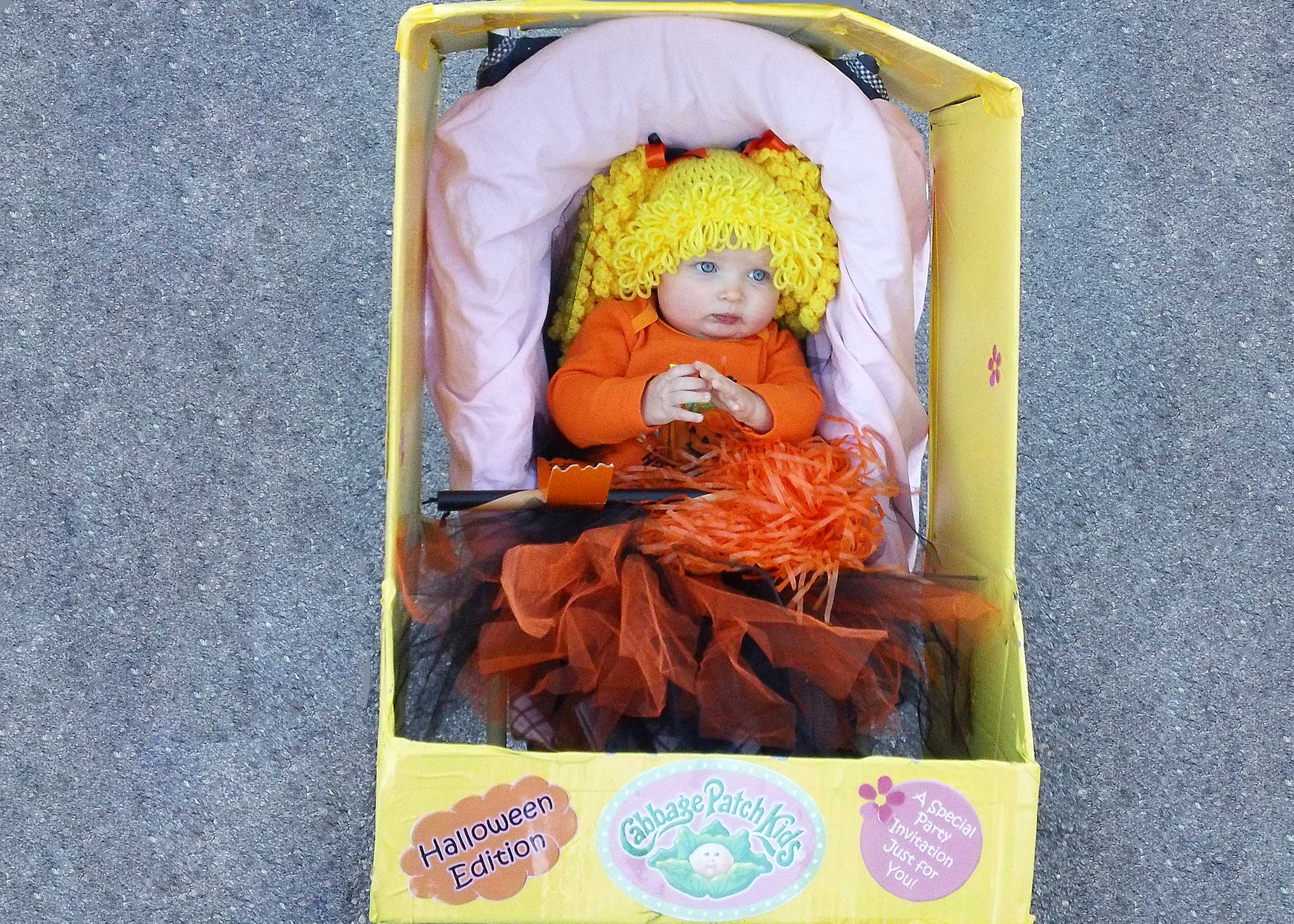 This is a picture of my little girl wearing the cabbage patch hat that I designed for her to wear on Halloween. My husband created the box that is placed around her so that it would fit perfectly over her stroller. The cabbage patch hat was a hit at the Halloween party we attended and she even won a prize for the most adorable costume!
---
Posts in this website contain affiliate links. If you purchase a product through an affiliate link, your cost will be the same but Crochet Guru will automatically receive a small commission.
- Your support is greatly appreciated and it helps keep Crochet Guru going!