Crochet Flower Pattern
This crochet flower pattern is super easy and it takes less than five minutes to crochet. This flower looks great on hats, scarves, animals, headbands, or even as a stand alone hair accessory. I love this flower pattern because it is so simple and versatile, and it really is great to wear any day! 
Scroll down to find left and right hand video tutorials!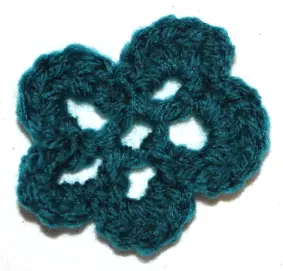 Flower Pattern - Right Hand Video Tutorial

Flower Pattern - Left Hand Video Tutorial
Crochet Flower Details
Any Day Flower
Skill Level:
Easy
Materials Needed:
1. Yarn: Soft Worsted Weight
Color A – Color of your choice
2. Crochet Hook –H/8-5.00 MM
3. Yarn Needle (blunt sewing needle with big eye)
Stitch Abbreviations:
sc – single crochet
dc – double crochet
sl st – slip stitch
ch – chain
sp - space 
Finishd Size:
2 inches wide
2 inches long

Flower Pattern
Foundation chain: With chosen color ch 5, sl st into first ch to form a circle.
Rnd 1: [ch 5, sl st into circle] repeat 5 times.
Rnd 2: Ch 2, [work 6 dc, into next ch 5 space, sl st into same sp, ch 2] repeat 4 times, in last ch 5 sp do not ch 2.
Sl st and fasten off.
Weave in loose ends with yarn needle.
Use this flower to accessorize on anything!!!!!
Picture Instructions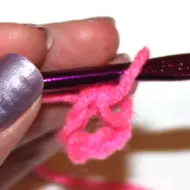 Picture 1: ch 5 foundation chain, sl st into a circle.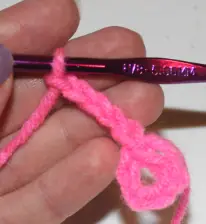 Picture 2: ch 5.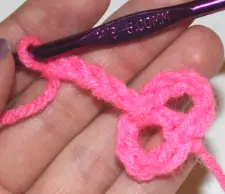 Picture 3: sl st last ch 5 into ring, ch 5.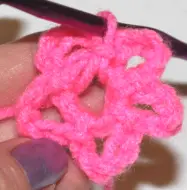 Picture 4: all ch 5's are worked and slip stitched into ring.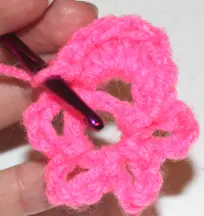 Picture 5: first 6 dc are worked into first ch 5 sp, first pedal is complete.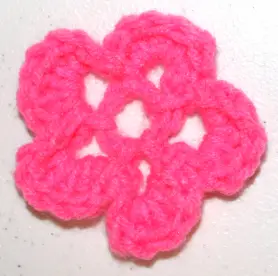 Picture 6: flower is complete.
---
Copyright: Please feel free to use the finished product for whatever you like, just make sure to give crochetguru.com credit for the pattern.
Never publish or claim this pattern as your own.
Please feel free to sell the finished item, but not this pattern or any other pattern you find on this website.