Crochet Fun Fur Sock Edging
Sock Trim Pattern
The first time I discovered that you could crochet fun fur edging around a sock was at my baby shower. My creative cousin gave me two pair of these darling little fur trimmed socks, and I immediately fell in love with them. 
After my daughter was born I put the fun fur trimmed socks on her and you wouldn't believe how many compliments we received!
Scroll down to watch a video tutorial on how these socks are made. Plus find the written pattern.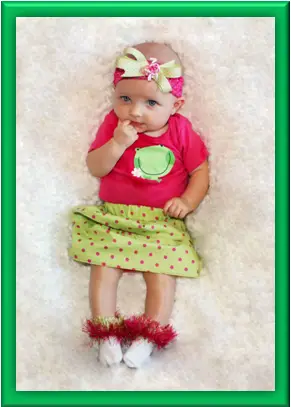 Here are some of the different color combinations of fun fur edged socks that I have made... These pictures may help you get some ideas on what you can create.
These 4th of July fun fur trimmed socks are my favorite!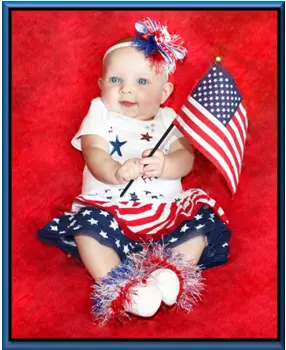 Crochet Fun Fur Sock Edging Details 
Skill Level:
Easy, however fun fur yarn can be difficult to work with.
Materials Needed:
1. Yarn: Fun Fur or Eyelash
The colors I used in my video tutorial:
     Color A – Lime
     Color B – Raspberry 
2. Crochet Hook –F/5 - 3.75 MM
3. Yarn Needle (blunt sewing needle with big eye)
4. Scissors
Stitch Abbreviations:
sc – single crochet
sl st – slip stitch
ch – chain
Finished Size:
This pattern is written for a 0-6 month sock size.
For a bigger sock size add more stitches around the sock.
Important Note:
Never place your stitches too far a part because the sock will be too tight!
 Crochet Fun Fur Sock Edging Pattern 
Note: Most socks comes pre-folded so open the sock fold and keep the sock turned right side out.
Rnd 1: With color A, join yarn with a sl st by placing crochet hook through top edge of the socks ribbing, insert the hook approx. 1/4" down from edge of sock, ch 1, sc in every 2-3 holes of ribbing around sock (approx. 40 sc).
If you are staying with the same color:
Rnd 2: Sc in each sc around (approx. 40 sc).
Fasten off, weave in loose ends, fold sock over.
I you are changing color:
Rnd 2: Attach color B, Sc in each sc around (approx. 40 sc).
Fasten off, weave in loose ends, fold sock over.
Note: Do not fasten off if you choose to make a third row or use a third color.
For a Fuller look:
Use a yarn needle to pull out more of the fur that has been crocheted in with the main strand.
Copyright: Please feel free to use the finished product for whatever you like, just make sure to give crochetguru.com credit for the pattern.
Never publish or claim this pattern as your own.
Please feel free to sell the finished item, but not this pattern or any other pattern you find on this website.