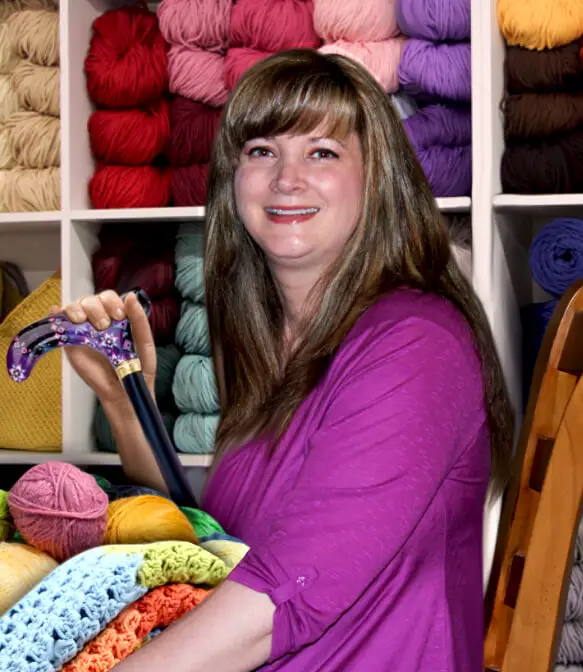 Bobbie Thomson is a crochet YouTube influencer, pattern designer, owner of the Crochet Guru website, a dedicated wife, and a busy mom of three girls. As a young adult, she learned how to crochet and immediately fell in love with the art. She began designing crochet patterns in 2005 and started her crochet career by selling her patterns and finished goods at craft fairs. In 2012, she began teaching crochet, and through YouTube and her website has developed a very loyal fan base.
In 2010, prior to starting her professional pursuits in crochet, Bobbie was diagnosed with hereditary spastic paraplegia, a rare disorder that causes progressive weakness and spasticity, among other side effects. At the time of her diagnosis, she was only 30 years old, and since then, her legs have seen the most debilitating changes. They have been slowly deteriorating, limiting her ability to walk. Although this has been a difficult trial for her and her family, she feels blessed because she can still walk and perform most functions with the help of a cane. Bobbie also feels that her crochet artistic ability has saved her life because it has helped her overcome some of her most difficult challenges by keeping her mind active and happy while being productive.
Bobbie wants everyone to know that she doesn't let her disability stop her from her dreams and goals, and if you have been struggling with something similar, you shouldn't let it stop you, either!

Website: www.CrochetGuru.com
YouTube Channel: www.youtube.com/crochetguru
Etsy Shop: www.etsy.com/shop/crochetgurushop
Facebook: www.facebook.com/crochetguru
Instagram: www.instagram.com/crochetguru1